Trichotillomania and New Year's Resolutions
A New Year has come and gone and just like that the vigour and excitement at the prospect of a new beginning is replaced by the reality of life. The turn of the proverbial calendar page from December 31 to January 1 fills us with hope as many of us resolve to do better, to be better. Sadly, only 8% of the 45% of Americans who set New Year's Resolutions in 2014, achieved their goals. The stats are even more against you if your resolution is around self improvement, including the goal to stop hair pulling, skin picking or any one of the body-focussed repetitive behaviours (BFRBs).  Of course this does not mean that we should not set New Year's resolutions or that we should not resolve to stop pulling. What it means is that we need to reassess how we go about making these goals a reality. And for most of us, the part we are missing, is the PLAN!
 A Plan a Day Keeps the Pulling at Bay
One of the biggest mistakes we make when setting New Year's resolutions is that we do not treat it like a goal setting exercise. The word "resolution", according to the Oxford English Dictionary, means "a firm decision to do or not do something". By stating a New Year's resolution you are indeed taking the first and most important step in achieving your goals – making a commitment. But the decision to achieve something will not make that action plausible without a clear strategy. And a strategy requires SMART (specific, measurable, attainable, realistic, and timely/tangible) goals with a clearly defined plan of action. By simply stating "I am going to stop pulling my hair" you are not answering these critical questions: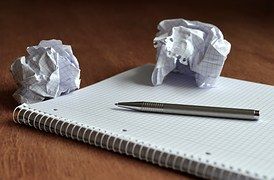 Will you stop completely all at once or gradually over time?

By how much time will you reduce picking and by when?

Which target areas will you stop pulling hair?

How will you know when you have achieved your goal?

What specific reasons, purpose or benefits are there for accomplishing your goal?
For example, a SMART goal would be "I am going to reduce the amount of time pulling hair from my scalp from 1 hour per day to 30 minutes per day by 31 March 2015". Some great examples of specific trich goals can be heard on the youtube video shown here by vlogger BeckiO. Once you have established a SMART goal you require a tangible plan of action with realistic time frames. This plan of action must detail any therapies you intend to access or skills you intend to learn or harness to achieve your goal.
Keep Motivated
Self improvement is never easy and certainly learning to overcome an all encompassing disorder such as trichotillomania will not happen overnight. Progress may be slow and when the condition affects your daily life it can be hard to stay motivated when tangible results are not forthcoming. A key element to sticking with your goal is to have a system of support or encouragement in place. This may be a friend or family member you trust, a therapist, support group or even an online community forum. Finding someone who can act as a soundboard and provide you with honest feedback will be crucial to achieving your goals. It is also vital to acknowledge your successes no matter how small they may seem and to continually review your strategy as this is not set in stone, bu should be tailored to meet your individual needs. The youtube video also shows some great examples of how reflecting back can hold important lessons for moving forward.
Start your journey with TrichStop
Take control of your life and find freedom from hair pulling through professional therapy and evidence-based behavioral techniques.
Start Now