Online Acceptance-Based Therapy for Trich? How Effective Is It?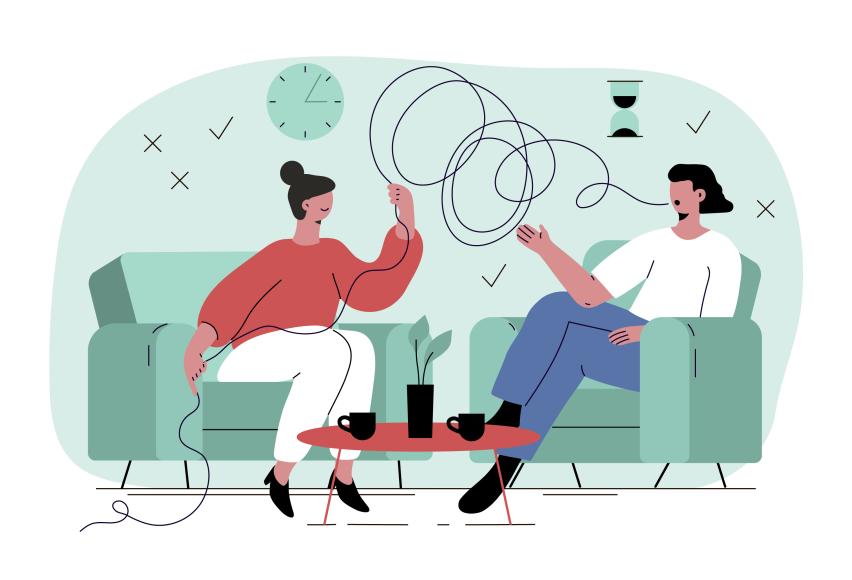 Online interaction has become our primary mode of communication in a lot of ways. We text. We instant message. We chat. We even conduct business over a screen. The pandemic just fast-tracked the online communications world. Is there anything we can't do online now?
With the advances in technology and the necessity for alternatives in the face of the pandemic, online therapy has emerged as an effective and accessible resource for many people who otherwise would be unable or unwilling to attend in-office sessions. For people living with trichotillomania (hair-pulling disorder) and other body-focused repetitive disorders (BFRBs), this is a game changer.
You've probably considered or even tried some form of therapy to manage your hair-pulling. After all, therapeutic approaches like Habit Reversal Training (HRT) and Acceptance and Commitment Therapy (ACT) are well-supported in the literature. Traditionally, therapy services have been delivered in an office setting, much like traditional medical services. But access hasn't always been easy.
Not unlike people with other disorders, many people living with hair pulling and other BFRBs don't receive treatment. It can be hard to find a therapist who is knowledgeable in treating hair pulling. Asking for help can be hard. Reasons for not seeking care include concerns of shame or stigma, a lack of knowledge about their disorder, distance from care, or cost of services.
Online therapy can help overcome many of those barriers to treatment but the question always arises: Is online therapy effective? The next question is, is online therapy effective for hair pulling? The answer seems to be a resounding yes.
Overcoming Barriers
Although it's delivered differently, online therapy is not that different from what you might expect from in-office therapy. You will meet with a licensed therapist that you've chosen. You will work on the issues that are most important to you.
So, what's different? In-office sessions sometimes are just not a good fit . Online therapy removes many of the barriers that keep people from seeing help:  
Accessibility If you've tried to find and get in to see a therapist, you know the struggle. Accessibility is one of the most often cited barriers to seeking help, especially for people who live in remote or underserved areas. Online therapy brings the therapist to you.
Comfort Online therapy allows you to be in a location that you feel most comfortable in, often your home.
Cost Online therapy is often more affordable than in-office sessions. When you consider the costs of travel, parking, childcare, and taking time off work, online therapy can be easier on the wallet.
Convenience Online therapy gives you flexibility and control over your schedule. You can choose times that work for you. And, you're more likely to keep appointments when they fit your schedule. No need to juggle work and play dates and worry about traffic jams.
Privacy Privacy is a big concern for many people. They don't want to be seen going to a therapist's office or risk facing the judgment of others. Online therapy lets you see your therapist when and where you feel most secure. You get to decide who knows about your therapy.
Is the screen awkward or a barrier to you and your therapist getting to know each other? No worries there. Research has consistently found that the therapeutic alliance between therapist and client is actually as solid with online therapy as it is with in-office therapy. They might even get to know you better and learn things about you that can aid in your treatment process.
If the benefits aren't enough, online therapy is also effective and, in some cases, treatment gains are long-lasting.
The Effectiveness of Online Therapy for Trich
There is mounting evidence that supports the effectiveness of online therapy. Cognitive behavioral therapies, in particular, have been found to be as effective, and in some cases more effective, than in-office therapy for a number of medical and mental health disorders including depression, anxiety, addictions, insomnia, pain management, and more.  
But what about BFRBs? The findings for the effectiveness of online therapy for BFRBs like hair pulling and skin picking are equally as impressive.
Building on already well-established behavioral therapies for hair pulling and other BFRBs, a 2022 study found that online therapy for skin picking and hair pulling was effective in reducing picking and pulling behaviors. Using a 10-week therapist-guided protocol that included elements of both Acceptance and Commitment Therapy (ACT) and Habit Reversal Training, they found that the majority of participants found the program helpful and credible. Participants reported a significant reduction in hair pulling and skin picking at the end of 10 weeks. Even more encouraging is the fact that treatment gains were maintained over time and were still evident at a 12-month follow-up. Other studies have obtained similar results supporting the effectiveness of online therapy for BFRBs.
The Takeaway
These findings further support the efficacy of online therapy for BFRBs and seem to point to lasting results. While not a "cure", lasting results may offer people more options to manage their disorder and help with long-term treatment planning.
When choosing treatment, the most important factor is to choose the option that works best for you. Online therapy offers one more tool to choose from.
References
1. Marcks, B. A., Wetterneck, C. T., & Woods, D. W. (2006). Investigating healthcare providers' knowledge of trichotillomania and its treatment. Cognitive Behaviour Therapy, 35(1), 19-27. https://www.tandfonline.com/doi/full/10.1080/16506070510010657a
2. Roodt, C. A., Turner, M., Edmondson, A., Keeley, P., & Kendal, S. (2021). A qualitative study exploring international experiences of seeking treatment for adults with trichotillomania: A story of frustration and unmet need. Journal of Patient Experience, 8, 237437352110607. https://journals.sagepub.com/doi/10.1177/23743735211060792
3. Berger, T. (2016). The therapeutic alliance in internet interventions: A narrative review and suggestions for future research. Psychotherapy Research, 27(5), 511-524. https://www.tandfonline.com/doi/full/10.1080/10503307.2015.1119908
4. Carlbring, P., Andersson, G., Cuijpers, P., Riper, H., & Hedman-Lagerlöf, E. (2017). Internet-based vs. face-to-face cognitive behavior therapy for psychiatric and somatic disorders: An updated systematic review and meta-analysis. Cognitive Behaviour Therapy, 47(1), 1-18. https://www.tandfonline.com/doi/full/10.1080/16506073.2017.1401115
5. Asplund, M., Lenhard, F., Andersson, E., & Ivanov, V. (2022). Internet-delivered acceptance-based behavior therapy for trichotillomania and skin-picking disorder in a psychiatric setting: A feasibility trial. Internet Interventions, 30. Retrieved from https://www.sciencedirect.com/science/article/pii/S221478292200080X?via%3Dihub
6. Petersen, J. M., Barney, J. L., Fruge, J., Lee, E. B., Levin, M. E., & Twohig, M. P. (2022). Longitudinal outcomes from a pilot randomized controlled trial of Telehealth acceptance-enhanced behavior therapy for adolescents with trichotillomania. Journal of Obsessive-Compulsive and Related Disorders, 33, 100725. https://www.sciencedirect.com/science/article/abs/pii/S2211364922000185
Start your journey with TrichStop
Take control of your life and find freedom from hair pulling through professional therapy and evidence-based behavioral techniques.
Start Now