What is Body Talk and can it help with hair pulling?
Body Talk is a natural health-care system, which is designed to work with, and support, your bodies' own natural ability to repair and restore itself. A Body Talk session is designed to re-establish and re-connect the lines of communication which enable the bodies' internal mechanisms to function at optimal level. This process repairs and prevents disease while rapidly accelerating the healing process.
Body Talk differs from other healthcare modalities in that Body Talk Practitioners do not diagnose but rather, by using neuron-muscular biofeedback, the client's innate wisdom guides the Practitioner to find the unique imbalances and communication breakdowns, and the priority in which these should be addressed. Body Talk is non-invasive, safe, efficient and easily integrated into other healthcare systems. It is based on scientific principles with an emphasis on safe, effective and affordable healing.
The Body Talk techniques provide insights to the areas of your body that need attention. What might seem like an obvious problem to you is not necessarily the one your body wants to address first. This is the beauty of Body Talk. It respects the body's own needs and determines your body's priorities for healing. Then with the use of a variety of non-invasive techniques, Body Talkers refocus your body's natural healing response to establish better communication within the body.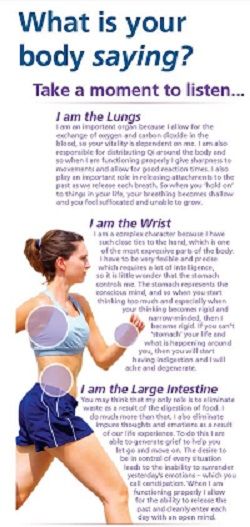 What conditions does Body Talk help?
Body Talk for Allergies
The natural and systematic approach of Body Talk to health and allergies in particular, produces wonderful results and relief for people who suffer from allergies and intolerances.
Body Talk for Anxiety
Anxiety is a common trigger for compulsive hair pulling. Regular Body Talk has shown to have great results for clients with anxiety who immediately report a sense of well-being after their session.
Body Talk for Children
 Body Talk effectively addresses common children's complaints such as colic, asthma, earaches, allergies, acne, hormonal changes during puberty.
Body Talk for Exam Stress
Stress is another common trich trigger. Many people use Body Talk as a wonderful, natural, safe and effective support during exam and high pressure time. 
Body Talk for Aches and Pains
With the help of Body Talk, practitioners can find and locate the key areas to address to help unlock and release tension, stored emotions beliefs and consciousness in the facial tissues , because we are led by the body to the primary source of tension! Once the practitioner balances the primary site, the body can unravel the cascade of tension and alleviate disease and dysfunction.
If stress or anxiety are some of the emotional triggers for hair pulling, Body Talk may be an alternative treatment option, or ideally accessed in conjuction with other, more traditional forms of treatment.
Start your journey with TrichStop
Take control of your life and find freedom from hair pulling through professional therapy and evidence-based behavioral techniques.
Start Now