Getting Summer Ready with Trich: Tips for Fun in the Sun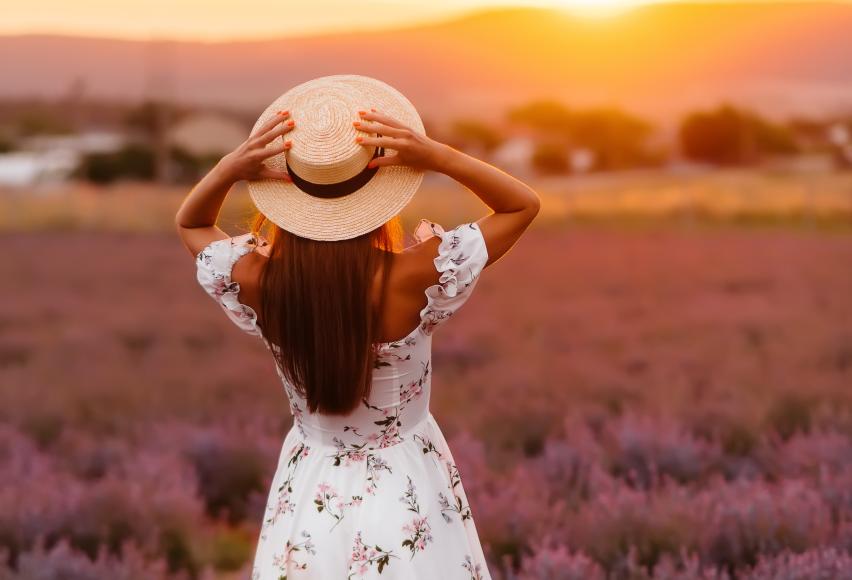 It's summertime and that means fun in the sun – swimming, pool parties, beach days, or just floating down a lazy river. Shorts, tank tops, and swimsuits are the dress code of the day. Feeling the sun and water on your skin might sound glorious but, if you're living with trichotillomania, summer brings a sense of dread and worry that can put a damper on summer fun.  
Trichotillomania, or "trich", is an obsessive-compulsive related disorder characterized by repetitive hair pulling. It is more than just plucking your brows a little too much. Trich impacts your life and functioning. One of the realities of living with trich is the damage that it causes. Depending on where you tend to pull, you may have bald spots, sparse or missing eyelashes or brows. You may go to great lengths to conceal that damage. You may even avoid certain social situations because of the risk of revealing the hair loss or feeling triggered. 
Summer brings challenges that you don't have in other seasons – heat, humidity, swimming, and all kinds of outdoor activities. Your usual ways of concealing your hair loss might not hold up. What's supposed to be a carefree, relaxing day can leave you stressed out and missing out. Are you destined to miss the summer fun, or can you manage your hair loss and still enjoy the season? No, you're not and yes you can! 
The Art of Disguise
For many people living with trich, the biggest worry isn't the actual hair loss but what it brings - feelings of shame and humiliation and worries about judgment from others. The emotional toll can be devastating. Skillfully concealing the hair loss and scarring that can result from repetitive hair pulling becomes a part of your daily routine. 
How you conceal the hair loss depends on where you pull, what the damage might be, and what feels most comfortable to you. Some of the more common ways of concealing hair loss include:
Wigs, hair pieces, or hair fibers
Hats or strategically tied scarves
Eyebrow pencil to fill in or draw on brows
False lashes, lash extensions, and eyeliners
If you use some of these methods, the idea of getting into the water can be terrifying. After all, not all of these coverups are waterproof or sweatproof. What's a summer-loving sun worshiper to do?
Make It Summer Friendly
Now you might be thinking that there's no good way to join in the fun so why bother? Dealing with trich doesn't mean you have to pass on the pool. There are lots of ways to maintain your appearance in ways that feel safe to you while doing things that bring you joy. 
The key to being able to enjoy summer, or any season for that matter, is to find ways to work around the challenges in ways that are comfortable for you. After all, you want to have fun, but you don't want your carefully crafted eyebrows dripping down your cheeks or your wig floating down the river without you. 
While there's no single answer for everyone or every situation, there's no experience like that of someone who's been where you are. Here are some suggestions for enjoying those pool days from people who know the challenges firsthand:
Make it waterproof – whether you're in the water, lounging on the beach, or just spending time outside, the heat and humidity can be tough on makeup. Luckily, there are lots of waterproof options for eyeliners, mascaras, and brow liners. Brows can be particularly challenging and one savvy makeup expert suggests layering up. No, not clothes but brow products. Layering brow products such as liners, tints and powders make it more likely that your color will stay in place longer and more resistant to water. 
Come on in, the water's fine!  – While the idea of getting in the water is scary, there are ways you can enjoy the water without compromising your comfort. As mentioned above, waterproof makeup products are your friend. But what about your hair? Wigs and water? Hmm. The good thing is, getting in the water doesn't always mean that you're in over your head. Lots of people wade in and swim with their heads above water. You can tie your locks up or wear a lightweight scarf and take a dip. 
If you're swimming for exercise, you still don't have to miss out. A well-fitting swim cap can keep everything well-concealed until you are ready to take it off. You can then replace it with a cute hat or scarf. Swim caps, hats, and scarves are commonly seen as swim accessories around the pool so you can relax knowing that no one will be the wiser. Enjoy your water time.
Embrace the Day
You know that old saying, "time flies when you're having fun"? It applies to lots of things, even dealing with trich. There's lots of anecdotal evidence that engaging in something that you love doing can give you self-confidence and maybe even give you a break from the hair pulling and the worry that comes with it. It seems that when you're engaged in something that requires your hands and your attention, you are less able to focus on pulling and worrying about what others might be thinking. Being around others can also help you to find your tribe and a community of support. While engaging in other things isn't a substitute for treatment and won't stop your hair pulling, it can empower you to embrace what excites you and help to make the pulling more manageable. What you may find is that the hair pulling has less power over you than you think. 
What inspires you? It might be deciding to get in the pool this summer, maybe even taking swim lessons. Maybe you're a runner. Or a biking enthusiast. 
Who inspires you? Maybe it's an athlete who's been open about their life with trich. Maybe it's someone in your community who is taking on a challenge. 
Give yourself permission to fly. You just may find a sense of confidence and inspiration you didn't know was inside all along, waiting for you to say yes! 
The Takeaway
Whether you're longing for a dip in the pool or ready to take on a new challenge, the right strategies can keep you fresh, confident, and ready to enjoy all that summer offers. Don't forget the sunscreen! 
References
1. Pretty and polished: Why the summer sucks if you have trichotillomania. (2015, February 6). Retrieved from http://www.prettyandpolished.co.uk/2015/06/advice-for-trichotillomania-in-summer.html 
2. Hair today, gone tomorrow the secret world of trichotillomania. (n.d.). Retrieved from https://www.reliefhelp.org/blog/hair-today-gone-tomorrow-the-secret-world-of-trichotillomania/
3. Purdie, J. (2015, August 14). The unexpected way I battle my trichotillomania. Retrieved from https://www.refinery29.com/en-us/trichotillomania-battle
Start your journey with TrichStop
Take control of your life and find freedom from hair pulling through professional therapy and evidence-based behavioral techniques.
Start Now