Lash Extensions and Trich: Best Thing Ever or No Way?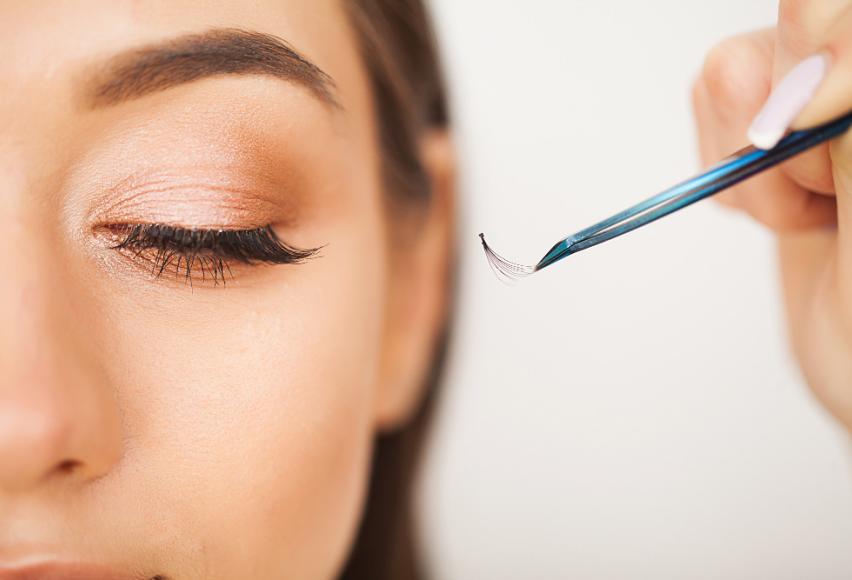 Most of us want long, lush lashes, and there's no shortage of ways to get them. There are false lashes, lash extensions, thickeners, and fibers all designed to give us that bright, wide-awake look we desire. 
For those living with trich, pulling out lashes can leave you with bare lids and feeling less than your best. You want beautiful lashes but struggle to not pull them out. You've probably thought more than once about using extensions and why they'd work for you. They sound like a perfect solution to replace the lashes you've lost:
They're not my real hair so I won't get the same "pull". 
I'm paying a lot of money for extensions so I'll be less likely to pull them off. 
I will love the look so much, I'll be motivated to keep them intact.
I will feel beautiful.
All reasons to not pull right? Well, in reality, it doesn't always work that way. There are pros and cons to getting lash extensions when you have trich. There's no experience like a first-hand experience. Let's take a look at what those who have tried lash extensions have to say. 
What Are Lash Extensions?
Before deciding to get lash extensions, it's important to understand just what they are. Lash extensions are semi-permanent fibers made from silk or faux mink. Unlike false eyelashes that are glued to the skin of the eyelid, lash extensions are actually applied one-by-one to your existing lashes using a semi-permanent adhesive. They are meant to give you the look of fuller, denser lashes. 
Before you book the appointment, there are some things to know. They're pricey and it's a time-consuming process. Lash extensions are not a one-size-fits-all enhancement. Depending on the look you want, a typical application can involve applying anywhere from 80-140 individual extensions per eye in various sizes. If your lashes are naturally short, broken, or damaged, you may not get the look think you will.
They are attached to your lashes. Why does that matter?
If an extension is pulled off, chances are some natural lashes are coming with it. While that might not sound like a big deal, it matters, especially if you're prone to pulling your lashes. If your lashes are already sparse, you're left with even fewer lashes. 
Still, for some people, lash extensions may seem like a worthwhile solution. Here's a closer look at the pros and cons based on the experiences of people who've tried them. 
Thumbs Up for Lash Extensions
A lot of the information you'll find about the benefits of lash extensions tends to be focused on people who don't live with trich. That's not to say that lash extensions can't be used for someone living with trich. It does mean that if you're considering lash extensions, it's important to consider the whole picture. 
Here are some pros:
Lash extensions can be a viable alternative to liners and false lashes to fill in a sparse lash line.
Lash extensions can conceal bare patches or fill in sparse lashes. They can give you the appearance of fuller lashes. 
Much like the idea that an expensive manicure can deter nail biting, it has been mentioned that lash extensions might deter pulling. This is a highly individual thing though, and not something to be assumed will be your experience. 
Lash extensions can be used for someone with trich but it requires a very individualized and intricate application which can also make the process more expensive. 
Thumbs Down for Lash Extensions
As with anything, there's always a downside or risk. The same holds true for lash extensions. 
Lash extensions are different from false lashes which are glued to the skin of the eyelid. Extensions are actually glued directly to your existing lashes. If one comes off whether by pulling or natural loss, some of your regular lashes are coming with it. 
As someone living with trich, pulling the extension off can trigger lash pulling resulting in even more lash loss. This is a commonly cited outcome. 
Lash extensions are expensive. For someone with trich, they can be even more costly. According to professional lash techs, someone with lashes damaged from pulling requires a more intricate lash placement in order to achieve a full, natural look. 
Lash extensions are expensive when compared to other lash options such as false lashes or mascara.
The cost of the extensions does not appear to be a deterrent to pulling. As one lash extension user stated, "it's (trich) a disorder, not a decision." 
What Do the Pros Say?
Of course, there is no single best answer when deciding to get lash extensions. But what do the pros say about lashing? Is it even possible to lash well when you have missing or damaged lash areas? 
It depends on who you ask but there seems to be a few general truths:
The short answer is, yes, you can get lash extensions if you have trich, provided that you have enough undamaged lashes. Should you is a separate issue.
It is important that lash pros recognize that trich is not a "bad habit" and that trich is a disorder that requires treatment. 
Honestly is the best policy. You need to tell your lash pro that you are dealing with trich so that they can help you decide what the best lash option is for you. 
The decision whether to use lash extensions when you have trich is not something to take lightly and should ideally be made in consultation with your treatment provider. Lash pros cannot guide you in that way. 
Other Lash Options
So, if you decide lash extensions are not for you, don't think all is lost. There are alternatives that others living with trich have found that can help you feel bright-eyed and confident.
Eyeliner is your best friend. It's a sentiment that has been echoed by many a liner lover. Eyeliner can help to fill in bare spots on your lids. It's also available in waterproof formulas that can help you feel more confident if you choose to go swimming or spend a day at the beach. 
False lashes are another option. They are glued to the eyelid rather than your lashes. They come in many brands, styles, and textures so you can find the ones that work best for you.  
Mascara can help give the illusion of fuller lashes. Some recommend using a primer with the mascara to create a fuller look. A lash serum can also help to keep your lashes health and supple as they heal.  
Beyond Lashes
Cosmetic coverage can mask the result of pulling but trich is more than the hair pulling. It is a disorder that can benefit from treatment to address the mechanisms that create the urges to pull. You can find resources in your community and even online. There is hope and there is healing. 
References
1. Segal, L. (2020, January 27). Thinking about eyelash extensions? Everything to know before booking. Retrieved from https://www.harpersbazaar.com/beauty/makeup/a30648109/eyelash-extensions-guide/
2. FabuPRO. (2020, July 24). Lashing Customer with Trichotillomania [Video]. Retrieved from https://www.youtube.com/watch?v=piIeM5iC3zQ
3. Deyo, J. (September 8). Why you should not use eyelash extensions with trichotillomania — TrichTricks. Retrieved from https://www.trich-tricks.com/blog/lash-extensions-and-trichotillomania
4. #Lashgang speaks: Trichotillomania and hair pulling. (2017, December 21). Retrieved from https://nouveaulashes.com/blog/lashgang-speaks-trichotillomania-hair-pulling/
Start your journey with TrichStop
Take control of your life and find freedom from hair pulling through professional therapy and evidence-based behavioral techniques.
Start Now